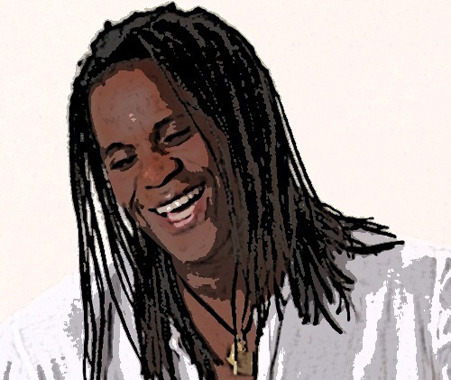 Watch video clip of Reggio performing in "We Are The Drum."
Reginald McLaughlin, better known as Reggio, "The Hoofer" has traveled all around the world, contributing to the preservation of authentic and traditional tap dance. As a dancer starting in the subway of Chicago, he brought smiles to the faces of many commuters and developed his unique and extraordinary style of footloose and fancy free hoofing. Now he is a Chicago tap icon.
In the early 90's through "Urban Gateways", an award-winning educational institution for the performing arts, Reggio's talent and educational program was introduced to schools, museums and libraries. Recognized by Chicago's "Gallery 37" he was the first tap instructor to be included in its after-school program that provides job training in the arts to youth.
After 20 years of dancing, Reggio has amassed a remarkable catalogue of achievements. His energetic style of hoofing has been profiled on educational television programs such as Channel 11's Center Stage sponsored by Illinois Arts Council, Art Beat Chicago, Inside Kentucky Schools, numerous news highlights, magazines, and books. Reggio has danced on Broadway and is now appearing in four documentaries, Juba "Masters of Tap", partnering with the legendary Ernest "Brownie" Brown. His feet are featured dancing to the documentary narration about the famous singer, Nat King Cole, Gallery 37 a Portrait of Chicago Youth and Vanishing Act. He played principal roles in the theater version of the Sammy Davis Jr. Story and two Duke Ellington Musicals, Jump for Joy and Beggar's Holiday.
Reggio has taken audiences on an exciting journey through the sounds of his feet in other countries such as Japan, Canada, Spain, Germany, Switzerland, Venezuela and Finland. In 2004 he was a recipient Of the Illinois Art Council Master/Apprentice Award. Today Reggio continues to travel nationally and internationally as a tap dancer, choreographer, instructor and educator. He creates special art programs for Chicago's Department on Aging, Global Roots OutReach for children in low income schools and performs at the children hospital. He is the producer and writer of his annual Christmas Show called The Nut Tapper - a unique, spirited, exhilarating and multicultural percussive variation of the classic ballet from Tchaikovsky's Nutcracker Suite. The Nut Tapper is a swinging recreation of this popular holiday classic with fascinating rhythms of Tap, Spanish Gypsy Flamenco, Mexican Zapateado, Appalachian Clog etc.
Reggio is currently filming a instructional video and a new documentary highlighting his friendship and dance relationship with the legendary 91 year old Ernest "Brownie" Brown. Reggio continues to contribute to the rise of tap dancing to a status of recognition and admiration.
Blessed
In about the second grade I saw my first tap dance performance. There was one guy dancing with all the girls, and I knew then, this was the art form for me. It was love at first sight. After that I started putting bottle caps on the bottom of my shoes trying to imitate tap dancing on the concrete side walk. I grew up on the south side of Chicago in the Woodlawn and Englewood district. When I was 15 yrs. old I dropped out of school and was a working, traveling musician playing bass guitar by the side of my brother who played lead guitar, but that feeling of "I got to dance" never went away. I was introduced to my first tap dance teacher Jimmy Payne Sr. He gave me a solid foundation. I loved how tap dancing made me feel! Then I got ambitious and took to the streets; clacka, clacka, clacka, and a rat-a-tat-tat.
I began to dance in the Chicago underground subway stations, which is truly an underground world. Down there people would say anything, do almost anything, but that is where I developed a sincere connection with people. You learn about everyday people, pickpockers, police, bag-lady, homeless etc. I learned how to perform down there. I saw what worked and what didn't by how people reacted. For some my dancing was like medicine. You could see how it changed them and played a role in their day.
Shows like 42nd Street, Sophisticated Lady, and Black and Blue helped make tap popular again. Big department stores wanted me to dance inside for their grand openings and holiday seasons. Agents called who once turned me away at the door. I got out the subway and took it to another level. I developed a school program, started teaching, began doing community service, produced shows, and traveled. I've always felt blessed, dance has been my guardian angel.
Reggio